In October 2018, the entrances to the Institute of Nuclear Physics were equipped with the electronic key system from intrakey. Below we want to answer some frequently asked questions.
Update 2023: The registration process for staff and guests has been changed. See General Organisation
How does the key chip work?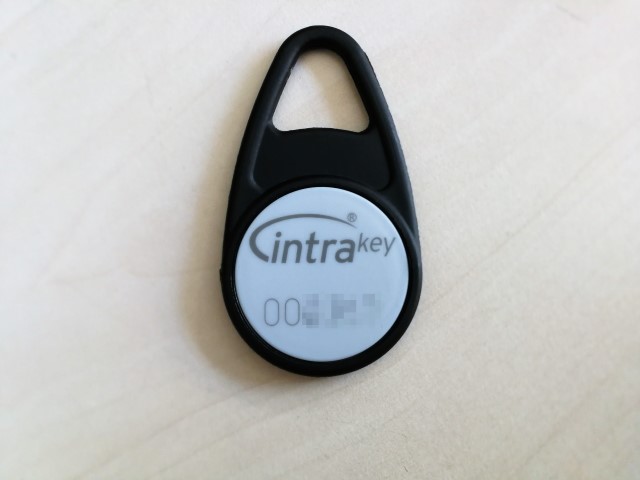 The transponder must be charged at an online access reader (see below). The authorisations are stored on the key chip. The authorisations are active until midnight (for recharging after 12:00, midnight of the following day).
If the chip is lost, it can be deactivated by the issuing office. All online doors (doors that are opened by an online access reader) are then immediately blocked for this chip. Offline doors can, however, be opened until the activation process is completed.
It is therefore important that a loss of the transponder is reported immediately.
What do the online access readers look like and where are they located?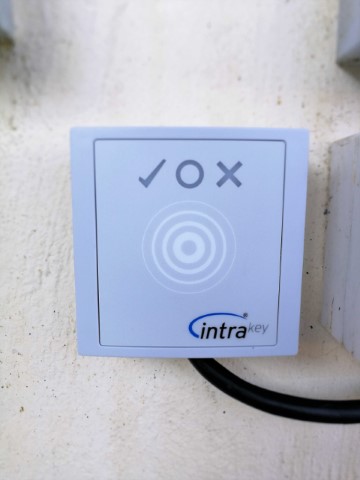 The picture on the right shows the online access reader at the side entrance of the KPH. Online access readers are connected to the central key system via intranet. This allows data to be synchronized in real time.
Most online access readers allow the transponders to be charged.
The KPH access readers are located:
At the main entrance

KPH side entrance

MAMI Building

Gate to HIM (both sides)

Access road MAMI / spectrometer hall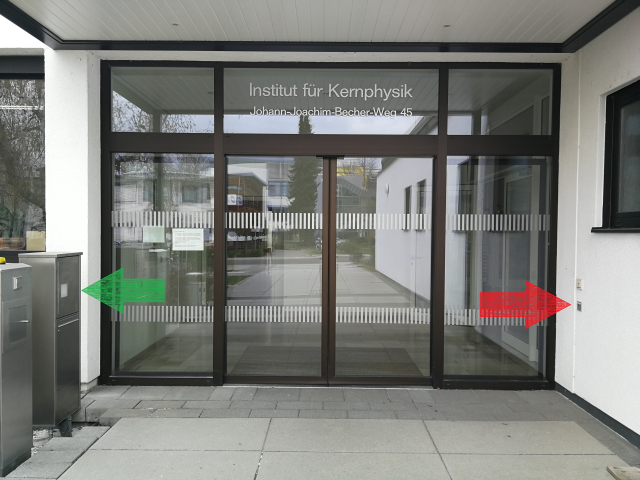 At which access readers can I recharge my transponder?
At all online access readers on the university campus. If you have access authorisation for the specific door, the tick will light up green briefly. If not, the red cross will light up briefly. Nevertheless, from this time until midnight you can still open the doors for which you are authorised.
I already have a transponder from HIM (PRISMA, ...). Can it also be used for the Institute of Nuclear Physics?
Absolutely. Please create a ticket by sending an email to kph-anmeldung@uni-mainz.de and let us know your request, the transponder number and the issuing office.
What should I do if the key chip has been lost or stolen?
Inform the person/department from whom you received the key immediately. These are:
KPH: The radiation protection group of nuclear physics.
HIM: Frau Hocke
Physics: Herr Fuchs
The transponder is deactivated in the system and the key is worthless 24 hours after the last charging process.
Should the key chip reappear, it can be reactivated by the same person/department.
We expect guests in our working group. How is the key issued?
Create a ticket with an e-mail to kph-anmeldung@uni-mainz.de.
For each guest the following information is needed:
Name, first name
E-mail address (preferably e-mail of home university)
Start and end time
Date of birth (only if a Uni-Mainz guest account is applied for at the same time)
Furthermore, we need the following data of your contact person from the institute:
Name
First name
E-mail
Phone number